Home Additions
What Do You Need To Know Before You Build A Home Addition?
<![if !mso]>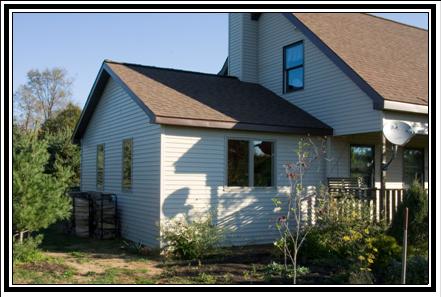 <![endif]>
Home Addition in Zeeland Michigan on Whitetail Way.
<![if !supportEmptyParas]> <![endif]>
The Art of being able to make a home addition look right.
Have you driven by a home with an ugly addition? The homes architecture is ruined, neighbors are antagonized, and property value may be lowered by the home addition.
A properly designed addition enhances a home!
This requires the talents of a good architect. If you possess them, you may want to create your own design... most people rely on an architect.
The first step is to prepare a program (Architect terms).
List the Use and approximate dimensions of each room. Rectangular rooms (Approximately 1/2 again as long as they are wide) are generally the most comfortable.
For the best light and ventilation, locate windows on two walls and try to place doors near corners.
Consider how each room relates to others.
What factors should you consider?
* Noise
* Access
* Light
What can you use to help you see how the rooms will relate? Know it will take time first of all. Then illustrate what you would like to see happen. Illustrate?
<![if !supportEmptyParas]> <![endif]>
<![if !supportEmptyParas]> <![endif]>
Illustration examples:
Notepad with scribbles and rough sketches
Magazine Clippings
Your site plan: Make copies and scribble in where you would like addition.
Pictures of your home copied - drawing in roughly your addition location.
Pictures of other homes - with similar layouts of what you would like to see.
There are three options for your addition style.
* Build horizontally from your home
* Build Up above your home
<![if !supportLists]>· <![endif]>Build a major addition (2 story wing or a full second story)
<![if !supportEmptyParas]> <![endif]>
Can any style of addition be made to look attractive? Yes - still most designers play it safe by following two rules.
# 1: Echo the original house wherever possible.
#2: When the addition must depart from the style of the house - The departure should be clear and intentional, in subdued contrast to the original.
Three elements are particularly important:
* Roof
* Siding
* Windows
Double Hung Window
Casement Window
Circletop Window
Go to our window page for Window Selection and Information - Windows
Roof aspects that are crucial to appearance are details: Slope, overhang, and covering.
Slope: Matching is fairly simple in most cases and with some carpentry tricks the overhangs can be matched as well.
Roof Covering: You can usually find roofing material of the same size and shape as the ones you have. However - They almost NEVER will match perfectly. Generally you can settle for an approximate match. If the roof is a dominant feature - you may want to re-roof the entire home.
Siding: Old fashioned patterns still can be found in stock in lumberyards, and if necessary, you can order pieces specially milled to match at a fairly reasonable cost. Siding your entire home is another option. Is there a good place for a contrast in siding material? Stepping your addition 8" from the corner may help... Note ... on smaller homes this can create a fussy effect.
If we Combine all of these details we have now created the new look of your addition!
In the planning for a result - Consider inside your home the room layout, and outside your home what architects call the focus point of the house. The focus point is what draws and holds your eye, such as the front door or a large window. For this reason most additions are built at the rear.
All these rules are overruled by gifted designers. The most strikingly beautiful additions achieve there impact because their builders dared to disregard conventional methods. So what is the final authority? Individual taste. It is your home, and your home addition must please you!
Call Brands Construction for more information and checklists for your new home addition.
We provide detailed free estimates, plans, and room by room check lists.
616 875 2005
FREE PLANS & ESTIMATE?
616 283 1151
You Can Call Today!
No Pressure Free Quotes!
616 875 2085 FAX
or email@BrandsConstruction.com.
<![if !supportEmptyParas]> <![endif]>
You will leave our web site if you click on one of the following Sponsored Links:
http:// Lighting
http://
Home Appraisal: Determine Your Home Value Online here for a fee.
"By All Means, Don't Say, "If I Can;" say, "I Will!"  Abraham Lincoln
"Whatever You Do Today, Do It Better Tomorrow." Robert Schuler
<![if !supportEmptyParas]> <![endif]>
<![if !supportEmptyParas]> <![endif]>
<![if !supportEmptyParas]> <![endif]>
<![if !supportEmptyParas]> <![endif]>
<![if !supportEmptyParas]> <![endif]>
<![if !supportEmptyParas]> <![endif]>
<![if !supportEmptyParas]> <![endif]>
<![if !supportEmptyParas]> <![endif]>
<![if !supportEmptyParas]> <![endif]>
<![if !supportEmptyParas]> <![endif]>
<![if !supportEmptyParas]> <![endif]>
<![if !supportEmptyParas]> <![endif]>
<![if !supportEmptyParas]> <![endif]>